Company
MS ENG : Pioneering the future of the high-tech gas industry with a total gas engineering system
scroll down
Company Overview
MS ENG provides high-quality services to lead the continuous growth of customers.
Hello, thank you for visiting the MS ENG website.
MS ENG is exceeding our sales performance target every year through continuous technology development and research in gas/plant, tank manufacturing, tank re-inspection, KOLAS, gas equipment manufacturing and renewable green energy growth field.
Since its foundation in 1982 as Wongiyeon, MS ENG has developed into a gas and gas-related company for over 30 years, producing many experts and accumulating know-how to reach today's Gas Comprehensive Center.
In the future, MS ENG will continue to play a leading role in the continuous development of applied technology and challenges for the future in order to meet the needs of our customers whose needs are becoming more sophisticated and diversified as technology progresses.
Overview
Company Name

MS ENG Co., Ltd.
Company Establishment

May 14, 1982
CEO

Hyun Dae Shin
Website

http://msengr.co.kr
Main Business Area
Hydrogen dispenser, equipment development, plant facility, tank field, specific facility re-inspection and safety diagnosis, gas equipment manufacturing and new/renewable energy green growth field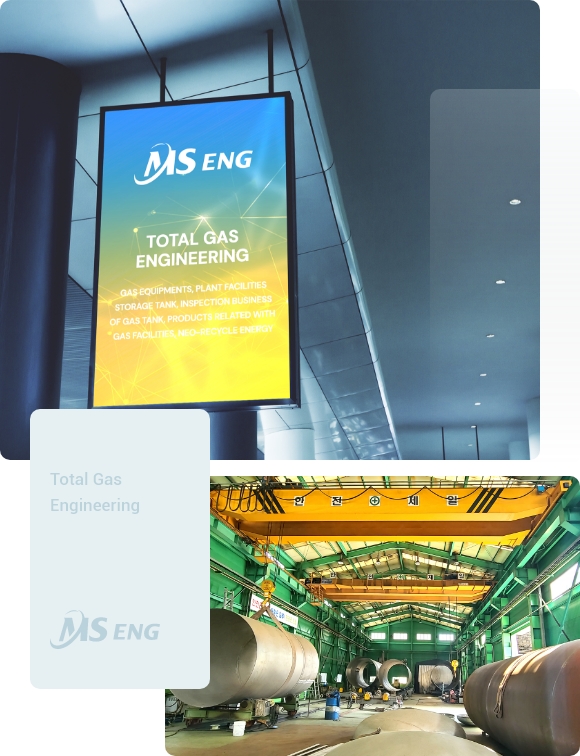 In order to contribute to the national economy along with the development of the gas industry, MS ENG Co., Ltd., which has only walked one road in the gas-related manufacturing industry for over 30 years, is participating in the overall industry with advanced technology.
In spite of the difficult internal and external circumstances of unlimited competition, we will strive to become a company that attracts attention not only in Korea but also in the world through continuous technological improvement and new market development.
And thanks to the encouragement and trust of our customers, we are diligently overcoming hardships and building solid foundation for a bigger leap forward. In particular, we will strive to develop and improve the quality of liquid hydrogen, an eco-friendly energy source that has recently emerged as a global concern, including storage/transport tanks, chargers, and valves for the production and distribution of liquid hydrogen.
We will continue to develop safer and more reliable products. We will do our best to become a company that customers can trust and choose by supplying them. Thank you.
Company History
MS ENG is recognized for its technology and capabilities with a long history in the gas and energy industries.
2022
2022. 8.

'Hydrogen enterprise' certificate acquisition
2021
2021. 12.

Achieves 16.6 billion won in sales
2020
2020. 12.

Achieves 14 billion won in sales
2018
2018. 10.

Starts initial production of hydrogen dispenser
2017
2017. 3.

SGS YARSLEY ISO 9001 certificate reacquistion
2016
2016. 3.

China Special Equipment License (CSEL) certification acquisition

Selected as a youth-friendly small and medium-sized company
2015
2015. 5.

Recertification of technology innovative small and medium-sized enterprises (INNO-BIZ)
2014
2014. 12.

ASME STAMP certificate ("S", "U", "PP", "U2") acquisition

CE-PED certificate acquisition

OHSAS 18001:2007 certificate acquistion

2014. 2.

ISO14001 certificate acquisition

2014. 1.

Selected as an excellent entrepreneur by Busan Metropolitan City
2013
2013. 12.

Receives 1 million dollar tower award on the 50th Trade Day

2013. 9.

Receives the 'Minister of Health and Welfare Award' from the Resurgence Small and Medium Business Development Institute
2012
2012. 9.

[Multifunctional cleaning and disinfection device for welfare equipment] patent acquisition
2011
2011. 2.

Establishes Small & Medium Business Development/Support Institution
2009
2009. 10.

Flashback arrestor certification from Korea Gas Safety Corporation (first in Korea) acquisition

2009. 3.

Patent certification as [CE TANK's pearlite injection method]
2008
2008. 10.

Bureau Veritas (BV) certification acquisition

Registeres as a company specializing in renewable energy (hydrogen, bioenergy)

Registers safety valves for cryogenic GLOBE and NG GAS for Korea Gas Corporation

2008. 5.

[Gas injection valve] patent reacquistion
2006
2006. 12.

CE Mark certification for charger acquisition

2006. 7.

ASME STAMP certification ("S", "U" STAMP) acquisition

2006. 5.

Venture Company certification acquisition
2005
2005. 3.

Utility model registration certification as [Loading arm with handle]
2004
2004. 4.

Patent certification as [control device and method for oil refueling such as gas filling]

2004. 1.

MS ENG Jinyoung factory goes into operation
2002
2002. 3.

Creates 'In-house Labor Welfare Fund
2001
2001. 1.

Corporate Identity change: Wongiyeon Co., Ltd. → MS ENG Co., Ltd.
1999
1999. 4.

SGS/KGS ISO9001 certification acquisition
1997
1997. 12.

ISO9001 certification from Korea Management Association acquisition
1992
1992. 11.

Selected as a promising small business by Woori Bank

1992. 1.

LPG business (LPG tank and equipment) starts
1988
1988. 3.

Trade business license (NO. 382113), high-pressure gas license acquisition
1983
1983. 11.

Construction Business license acquistion : starts gas facility construction business
1982
1982. 5.

Wonki-Yeon Co., Ltd. (Predecessor to MS ENG Co., Ltd.) establilshed (current Headquarter location)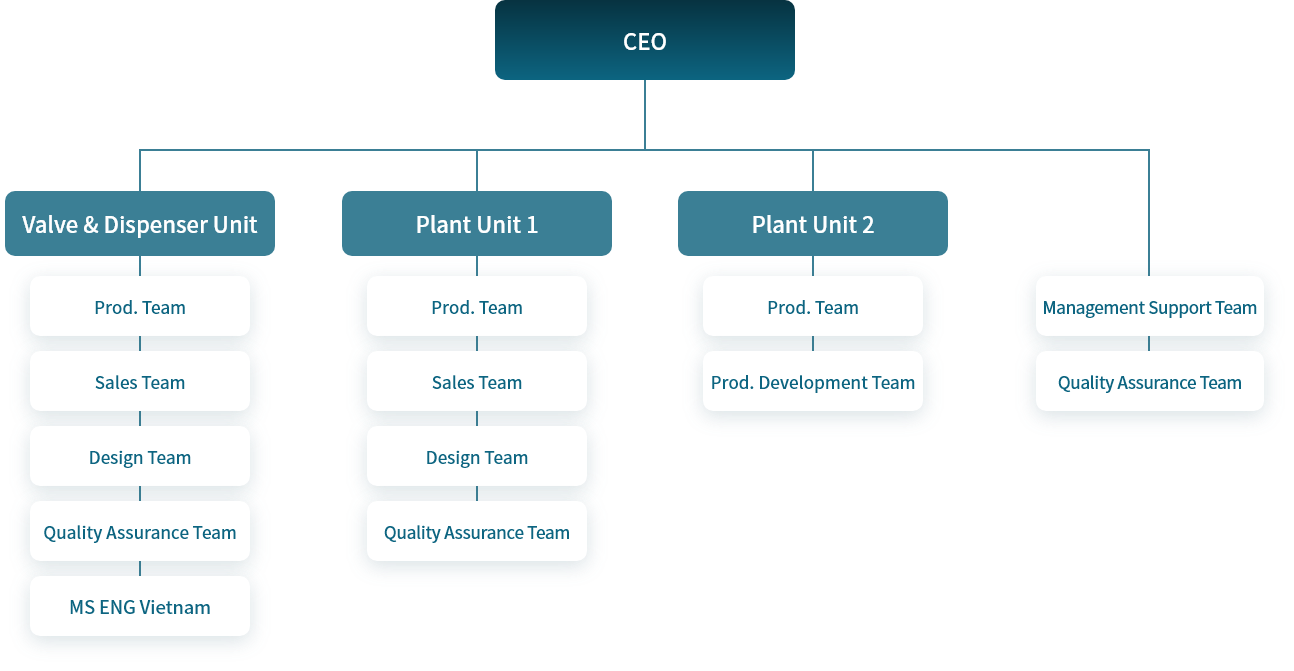 Certification
"MS ENG leads the gas industry and energy industry by acquiring the latest quality certifications."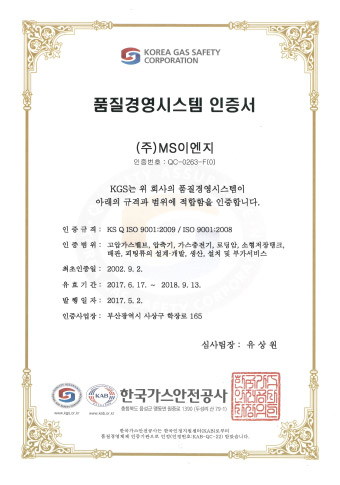 ISO 9001인증(KGSC)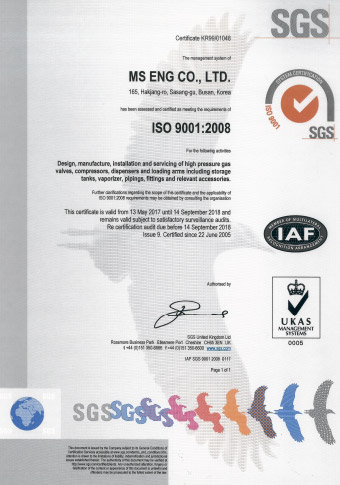 ISO 9001인증(SGS)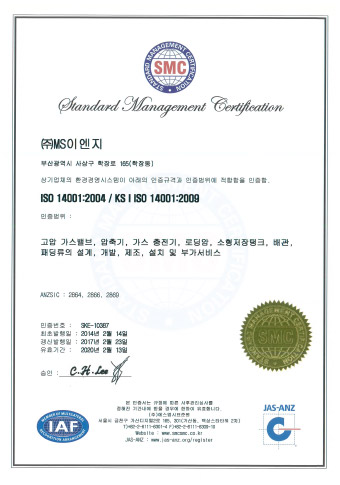 ISO 14001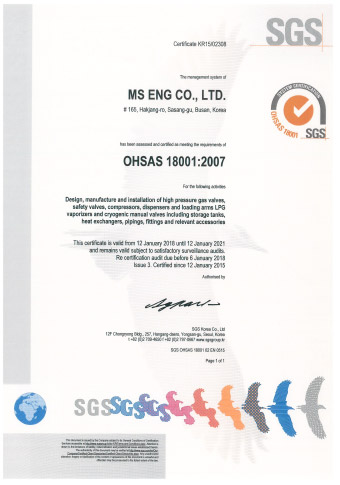 OHSAS 18001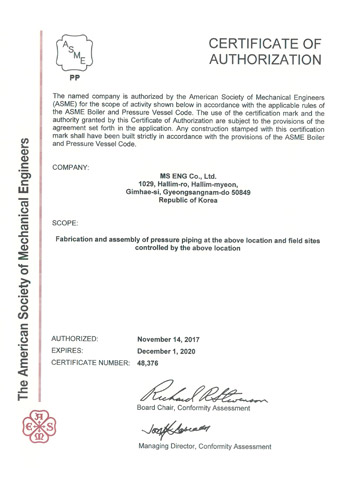 ASME PP Stamp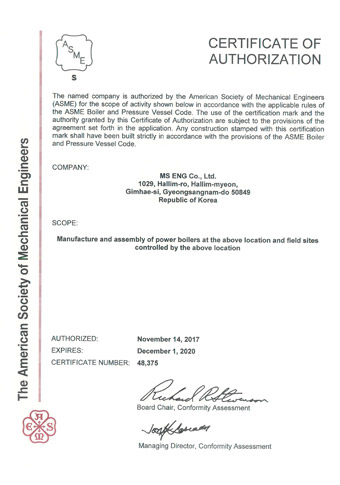 ASME S Stamp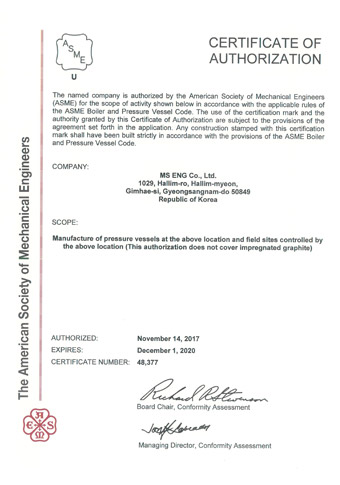 ASME U Stamp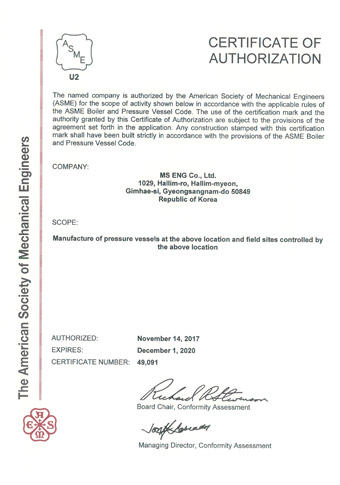 ASME U2 Stamp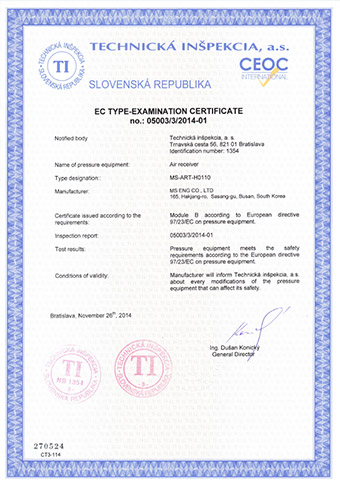 CE PED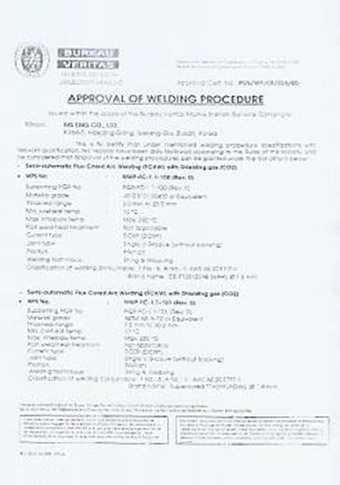 BV Approval of Welding Procedure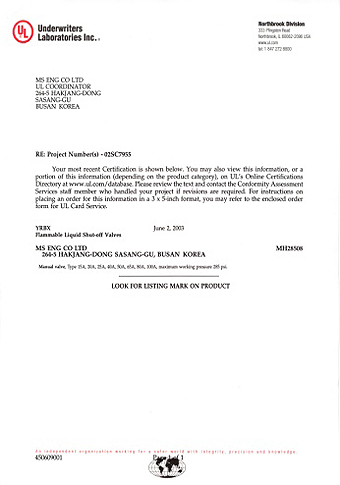 UL 인정서(Valve)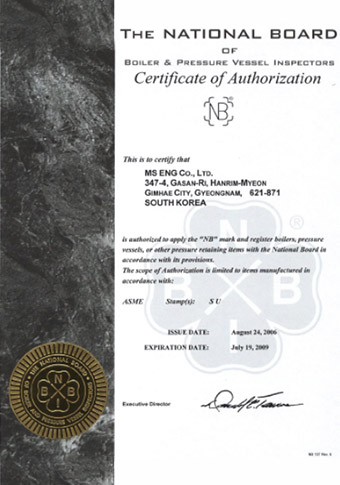 National Board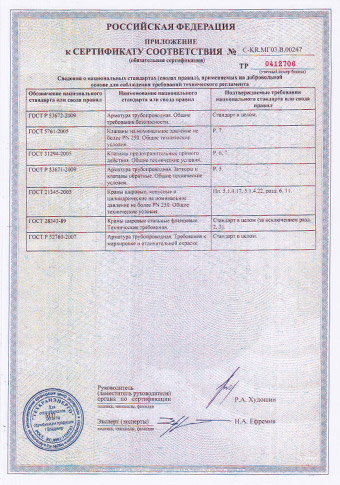 GOST-R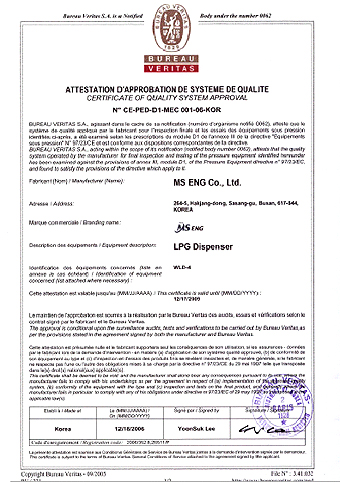 DISPENSER CE MARK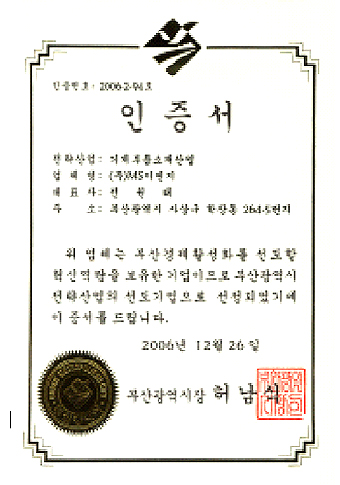 부산시 선도기업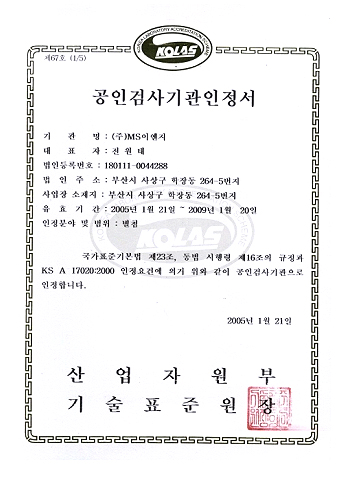 공인검사기관 인정서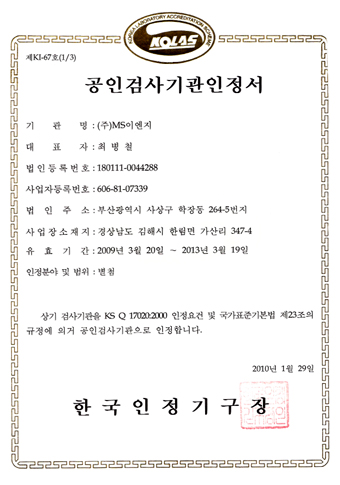 산업자원부 기술표준원 공인검사기관 인정서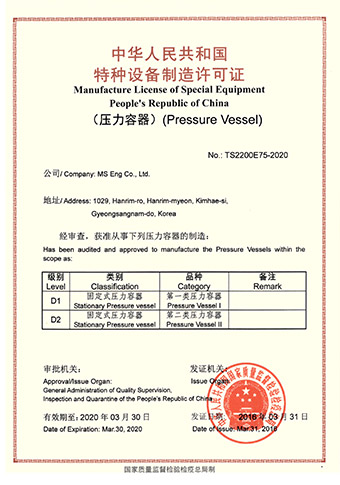 CSEL(China Special Equipment License)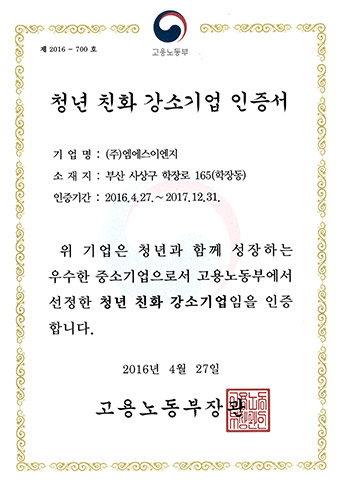 청년친화강소기업인증서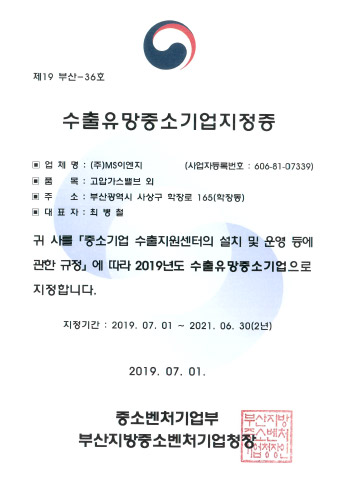 청년친화강소기업인증서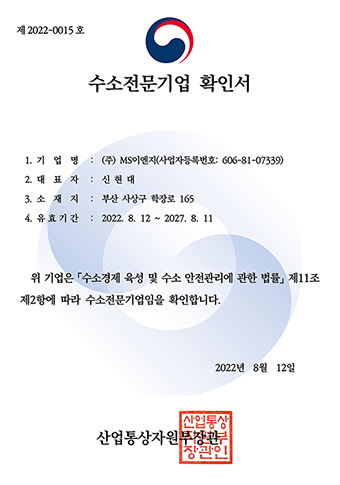 수소전문기업인증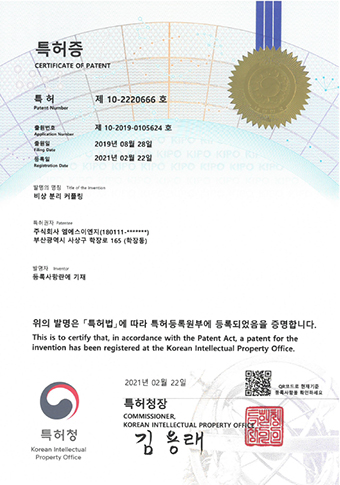 비상 분리 커플링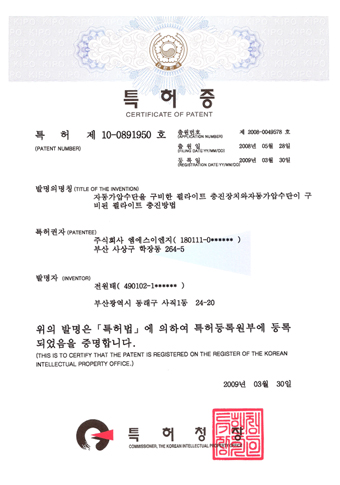 펄라이트 충진방법 특허증)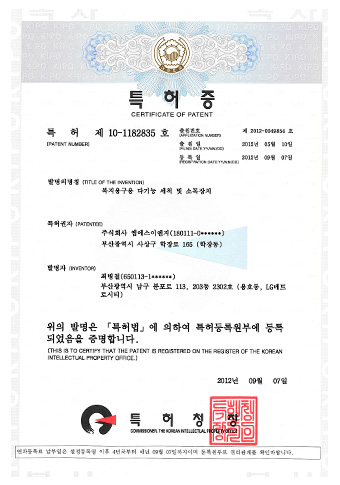 복지용구용 다기능 세척 및 소독장치 특허증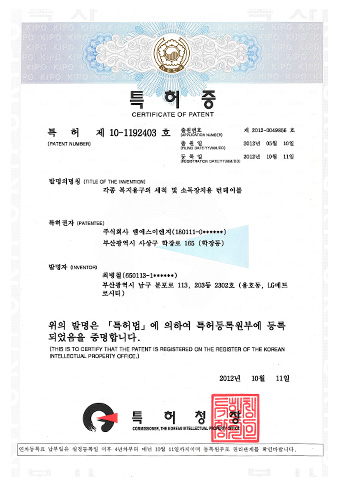 각종 복지용구의 세척 및 소독장치용 턴테이블 특허증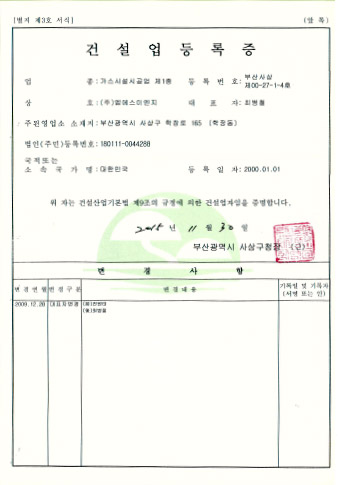 전문건설업 (가스 시공업 1종)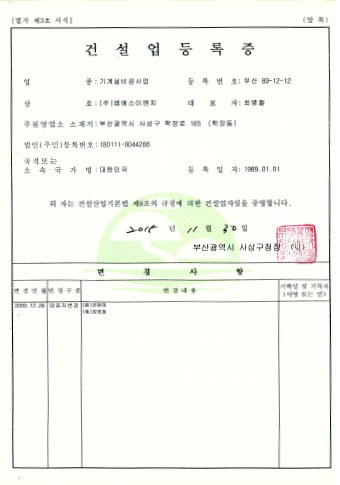 전문건설업 (기계설비공사업)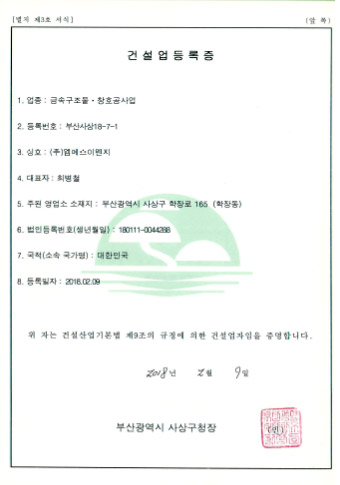 전문건설업 (금속구조물·창호공사업)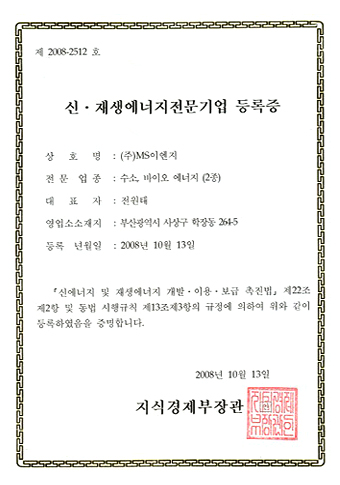 신·재생에너지 전문기업 등록증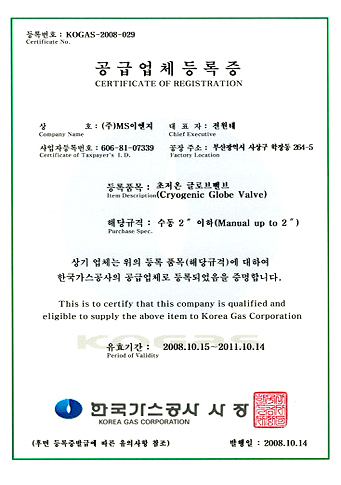 초저온 글로브밸브 등록증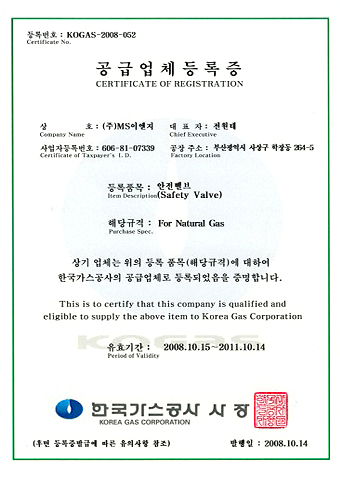 천연가스 안전밸브 등록증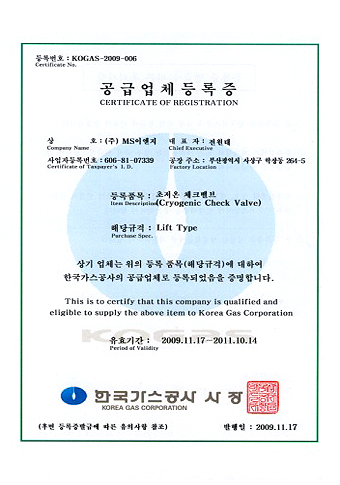 초저온 체크밸브 등록증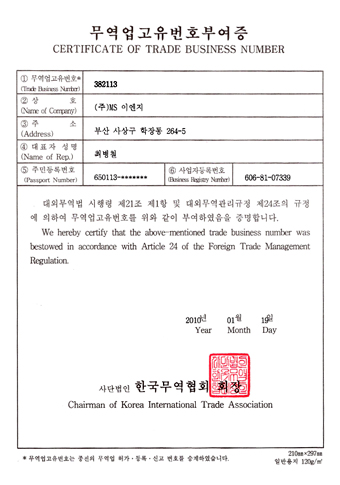 무역업 등록증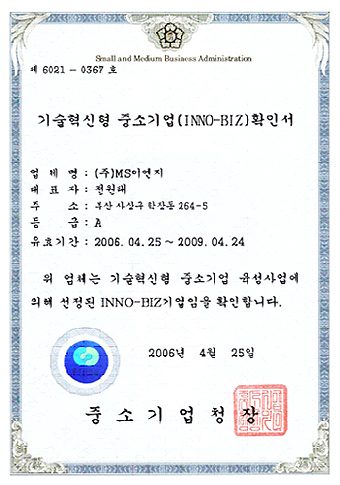 INNO-BIZ
부품/소재 전문기업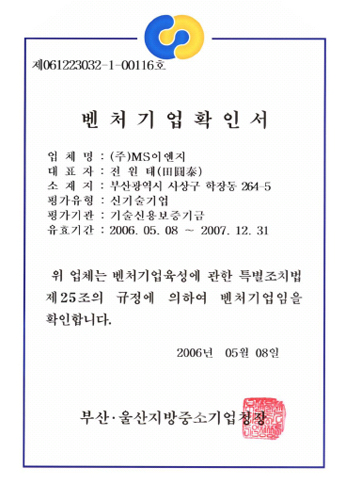 벤처기업 확인서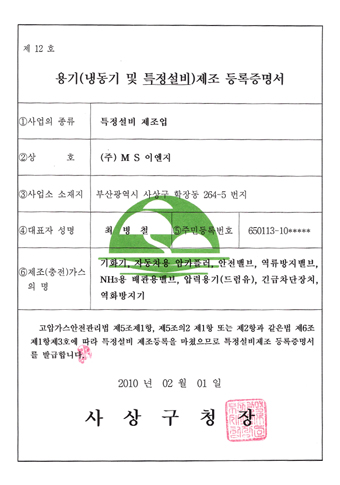 특정설비 제조업 허가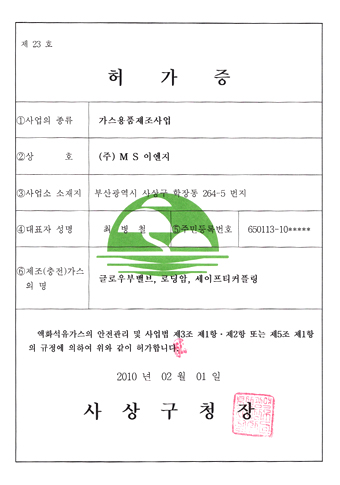 가스용품 제조업 허가
Production Facility
MS ENG is recognized for its technology and capabilities with a long history in the gas and energy industries.
선반 460 X 1,000 2기
선반 580 X 1,500 2기
선반 710 X 2,000 2기
CNC선반 Hi-ECO 10,21 4기
CNC선반 Hi-ECO-21 2기
CNC선반 PUMA 12L 2기
RADIAL DRILL JRD-950D 3기
2-HEAD DRILL NK-SH-MD200 1기
MILLING M/C WMTA-1,000 2기
COLD CHAMBER 1기
GRINDING & POLISING MACHINE 1기
MOUNTING PRESS 1기
METALLURGICAL MICROSCOPE 1기
MITUTOYO 2차원 측정기 1기
터닝로라

로링머신

자동용접기

진공펌프

파이프밴딩기

개선가공기
유압밴딩 롤라 1기
자동터닝 롤라 4기
프라즈마 1기
스브머지드 용접기 1기
진공펌프 4기
Mechanical Booster Pump 4기
세척용 펌프 1기
AUTO W/D MACHINE
Valve & Dispenser Business Unit

| Products | Key Customers |
| --- | --- |
| Valves (including LPG) | Kogas, Daelim, Hanwha, Posco, Lindekorea, SK, E1, GS caltex, Hanyang Gas etc. |
| Hydrogen dispenser | Hyosung, JNK heater, Hyundai-rotem, Valmax, Nktech, Bumhan, Airliquide, Daedo Hygen etc. |
| Ultra high pressure safety valve | Hydrogen charging station(Hyosung, Hyundai-rotem etc.), Test facilities, MIX GAS facilities etc. |
Plant Business Unit
Facility Type
Installation Status
Ammonia (NH3) storage facility

Yeongheung Thermal Power Plant / Dangjin Thermal Power Plant etc.

Posco Gwangyang / Pohang sintering plant etc.

Freon supply and storage facility

LG Electronics, SAMSUNG Electronics, DAEWOO Electronics etc.

LPG filling and storage facility

Gangjin Energy, Sandong GAS, E1, Oilbank, GS caltex etc.

General high-pressure gas supply facility & storage facility installation status

PKC, Lindekorea, Hanjin heavy industries & construction, Finebesteel etc.

Renewable Energy (Hydrogen station, polysilicon manufacturing process)

Hydrogen station(GS caltex) etc.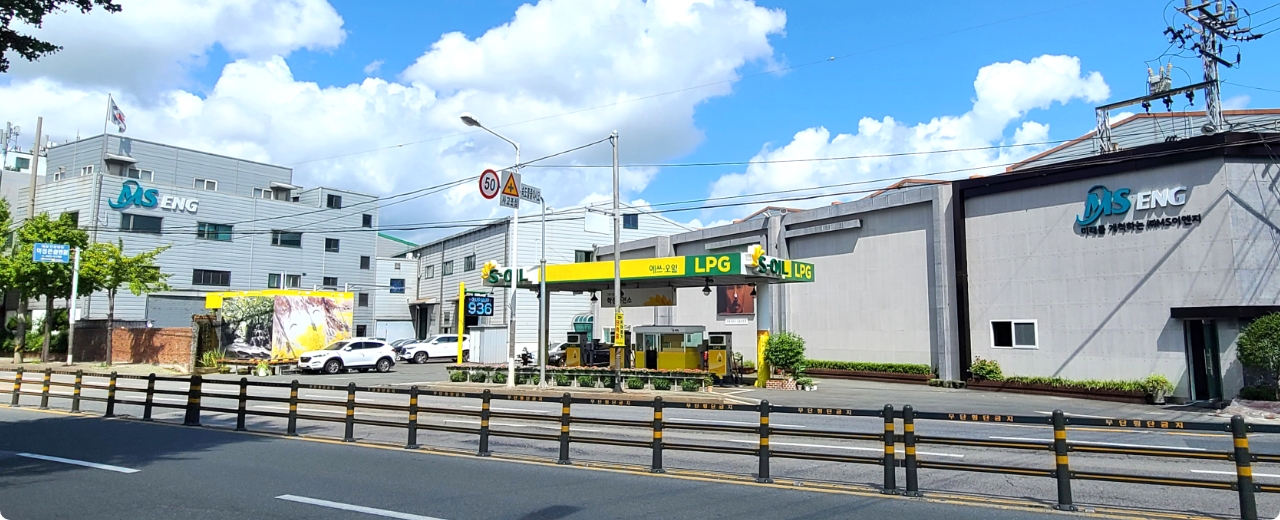 Address

165, Hakjang-ro, Sasang-gu, Busan
Contact

TEL) +82-51-312-5501

FAX) +82-51-326-3061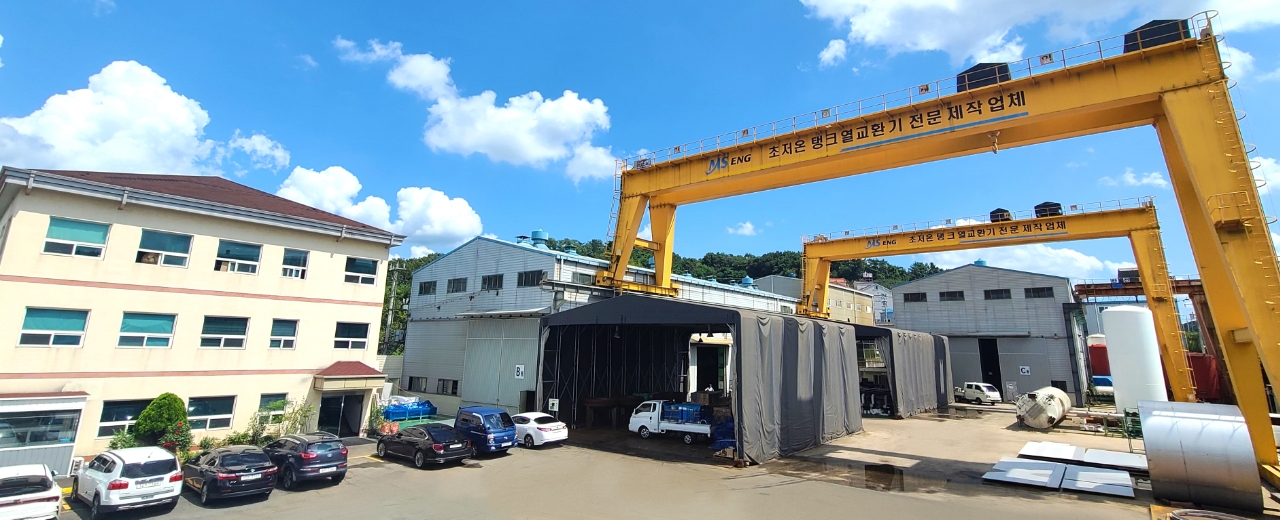 Address

1029, Hallim-ro, Hallim-myeon, Gimhae-si, Gyeongsangnam-do
Contact

TEL) +82-55-343-5041~3

FAX) +82-55-343-5217
Affiliate Companies
MS ENG is pioneering the future of the gas industry with its affiliates.
Starting as a high-pressure gas manufacturing company in 1974,
MS GROUP has grown to become a gas complex center with nine corporate bodies spread throughout Korea.
About MS Group